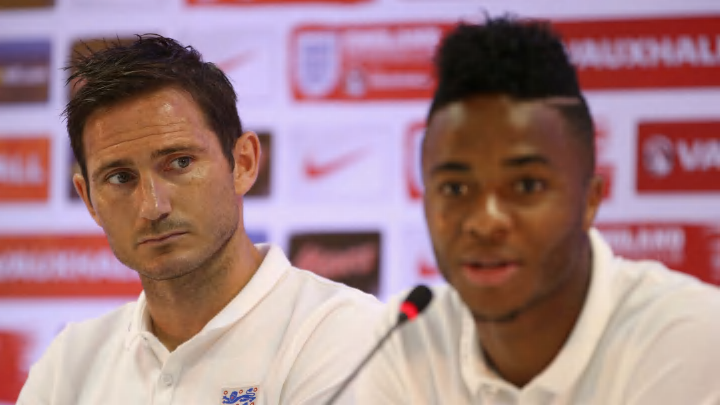 England Media Access – 2014 FIFA World Cup Brazil | Richard Heathcote/Getty Images
Chelsea legend and manager, Frank Lampard believes that Manchester City winger, Raheem Sterling was unfair to question the coaching roles that he and Steven Gerrard have landed in comparison to the likes of Sol Campbell and Ashley Cole, while admitting that more opportunities must be given to black people when it comes to management.
Sterling had earlier in the season opened up on the deep-rooted racism present in English football, going on to give examples of how easy it has been for Lampard and Gerrard to get management jobs as compared to black legends like Campbell and Cole.
Lampard who is widely hailed as one of the best midfielders in the history of the sport, lauded his fellow countryman for speaking about issues that need to change, but does not believe that his comments on him hold true.
'I think Raheem got it slightly wrong from my point of view'

Frank Lampard defends his coaching record after Raheem Sterling used him to highlight lack of opportunities for black coaches in football https://t.co/PyfFiuCEnm

— MailOnline Sport (@MailSport) June 24, 2020
"I think what Raheem Sterling has spoken about in the last year or two, he has been brave enough to speak about issues that maybe should have been broached a while before. There is huge credit for that," he said as quoted by Evening Standard.
"In the actual case of managers, I think he got it, from my point of view, slightly wrong because it felt a very casual comparison. Because if you compare opportunities and pathways of individual managers . . . you can compare myself, Steven, Sol, who by the way did an incredible job at Macclesfield and the job he is doing now at Southend all of us would find incredibly difficult to do.
"Compare Ashley Cole who finished his career with me at Derby last year and is working his way here, doing a great job, and I think he is going to be successful with whatever he wants to do. So I think it is very hard to make that comparison from the outside. I think those opportunities have to be equal for everybody, we all agree on that. But within that, there are the details of how hard you worked."
"But with Raheem, the individual comparison when you do not have the detail of each person's pathway, I felt was not quite right," he concluded.
The lack of black managers present in English football has been a source of debate for sometime now, with Campbell even revealing in the past that his colour might have played in him not getting opportunities in management.