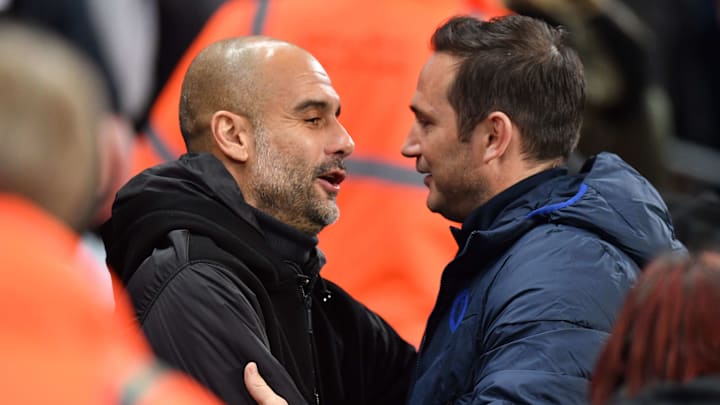 Pep Guardiola has only won one of his five away games as a manager versus Chelsea | PAUL ELLIS/Getty Images
Manchester City travel to Stamford Bridge, knowing anything less than victory will hand Liverpool the Premier League title. Both sides go into the blockbuster contest with a 100% record since lockdown, with Chelsea beating Aston Villa on Sunday and City winning two from two so far.
Chelsea are currently in fourth place and need as many points as they can muster in order to cement a Champions League spot. City, meanwhile, will be hoping to put pressure on league leaders Liverpool, even if their own title challenge now looks over.
Both managers have some seriously talented players they can call up on, despite Sergio Aguero missing out due to injury
Here are the five key battles to watch out for as Chelsea host Manchester City.
Azpilicueta has quite a task ahead of him when he takes on Sterling | Visionhaus/Getty Images
The Chelsea veteran will likely keep his place in Chelsea's starting XI, and he will have to cover either Bernardo Silva or Raheem Sterling. Azpilicueta is not the fastest guy on the pitch but has a lot of strength. He will need to put his body out there to stop someone like Sterling.
Manchester City do well when attacking from the right side to Azpilicueta's defense will be key in conceding fewer goals. Azpilicueta sent some good balls into the box in the match against Aston Villa which resulted in two goals. If he can put a few more into the box, a couple more goals should come in favor of Chelsea.
Either way though, Chelsea's right-back will have a hard time with Sterling, who has scored 21 goals and made three assists this season already.
ante versus De Bruyne will be one of the biggest key clashes in this match | Chris Brunskill/Fantasista/Getty Images
Kante is arguably the best center defensive midfielder in the world. De Bruyne, on the other hand, is arguably the best center attacking midfielder in the world. Both Kante and De Bruyne are, undoubtedly, their teams' best players.
Kante's amazing defending ability and speed will be key to stopping De Bruyne from running City's attack. The City attacker's incredible passing ability is what sets up many of Manchester City's goals. Depending on how well Kante locks up De Bruyne could be what decides the outcome of this match.
All in all, Kante versus De Bruyne will be one of the biggest key clashes in this match.
Kyle Walker will need to be at his best to keep Chelsea's left-sided attack quiet | Quality Sport Images/Getty Images
Manchester City right-back Kyle Walker came under fire during the season's suspension, as he broke the UK's lockdown rules on two occasions. But that hasn't stopped him from maintaining his position as Pep Guardiola's first choice in the position.
Christian Pulisic returned from injury against Aston Villa, coming off the bench to score Chelsea's equaliser. The American clearly had more impact than Ruben Loftus-Cheek – who started in the left-sided forward berth – and will likely start against City.
Walker will have to work with his defensive partners to push Pulisic out and reduce the space he is working with.
Will Chelsea striker Tammy Abraham get the better of Aymeric Laporte? | DeFodi Images/Getty Images
City are a far better team defensively when Laporte is involved. That's why his clash with Chelsea's central striker – likely Tammy Abraham – will be key to Thursday's result.
Lampard preferred Olivier Giroud to Abraham in Chelsea's win over Aston Villa, but Tammy is still the Blues' top striker with 16 goals this season, and offers more of a threat than Giroud thanks to his superior movement and speed.
Laporte is not the kind of defender to throw himself into last-ditch tackles. The Frenchman only averages 0.8 tackles per game. But his positional sense and ability to cut attacks off before they really begin is second-to-none.
Chelsea keeper Kepa Arrizabalaga will need to be at his best to keep out Manchester City's attack | Marc Atkins/Getty Images
Perhaps no other Premier League side are as blessed with as many talented players as Manchester City. Pep Guardiola can call upon a simply ludicrous amount of talent, from Raheem Sterling and Bernardo Silva to Kevin De Bruyne and Riyad Mahrez.
That means that even with Sergio Aguero likely sidelined with a knee injury, Chelsea's defence are going to have a serious battle on their hands come Thursday night.
For Chelsea, Kepa Arrizabalaga will be a key figure in their defense. After regaining his position as the Blues' #1 prior to the season's suspension, his form has begun to improve again.
With City totalling 39 shots across their last two games and Chelsea's defence not being watertight, it's clear that Kepa will have some work to do on Thursday.