The Champions League is the most prestigious club competition in European football and winning the competition is the dream of every footballer who plays in Europe.
A small number of players rise above the competition every year and manage to get their hands on this elusive trophy. An even smaller number of these players succeed in winning the Champions League multiple times with many players doing it with the same team as they become part of a dynasty.
Very few players have been able to leave a club after winning the Champions League and then go on to win it again with their new club.
Here is the ultimate XI who have won the CL with two different clubs.
1. Goalkeeper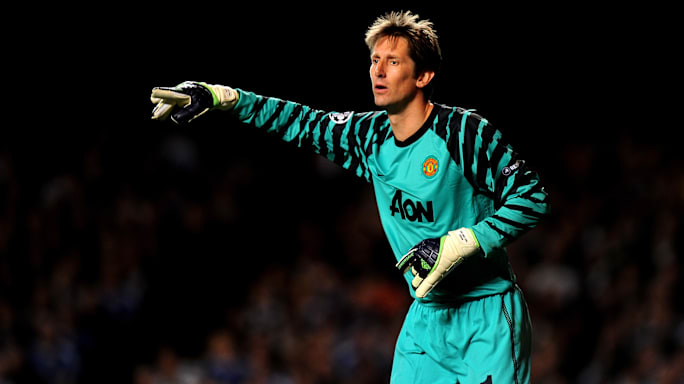 Chelsea v Manchester United – UEFA Champions League Quarter Final
Edwin van der Sar – Ajax, Manchester United
Dutch legendary goalkeeper, Edwin van der Sar is the player with the longest gap between two Champions League medal wins in the history of the game – the former Netherlands international winning the trophy or the first time with Ajax in 1995 before again lifting the trophy as a Manchester United player 13 years later.
Edwin won his first crown with Ajax back in 1995, while his second European Cup triumph came 13 years later when he emerged victorious from the first ever all-English final against Chelsea in Moscow, saving the decisive penalty from Nicolas Anelka during the club's 2008 shoot-out success.
2. Defenders
FC Barcelona v Real Sociedad – La Liga
Right Back: Christian Panucci – Milan, Real Madrid
Christian Panucci won the Champions League with Milan in 1994 and with Real Madrid in 1998. At Madrid, Panucci became the first Italian to play for the Spanish club. Starting alongside Brazilian star Roberto Carlos, the high point for Panucci at this stage of his career came in 1998, when he won his second Champions League title against Juventus.
Central Defender: Marcel Desailly – Marseille, Milan
The first man to lift the trophy with two different clubs during the Champions League era, Desailly achieved the feat in back-to-back campaigns with Marseille in the 1992-1993 season and Milan in the 1993-1994 season. One of the great defensive players of his generation and a World Cup winner in 1998, Desailly later spent six years in the Premier League with Chelsea.
Central Defender: Gerard Pique – Manchester United, Barcelona
Pique's first Champions League trophy came during a spell under Sir Alex Ferguson at Manchester United. On his return to Barcelona, thriving under Pep Guardiola, he twice beat his former side in Champions League finals, Barcelona defeating United in both 2009 and 2011. Pique would add a fourth Champions League title to his collection four years later with Barca beating Juventus in Berlin.
Left Back: Paulo Ferreira – Porto, Chelsea

Paulo Ferreira won the Champions League with Porto in the 2003-2004 season and again with Chelsea in the 2011-2012 season. Ferreira earned 62 caps for the Portugal national team between 2002 and 2010, playing at two European Championships, two World Cups, and finishing as runner-up at Euro 2004. After retiring, Ferreira worked for Chelsea as an ambassador and assistant loan player technical coach.
3. Midfielders
Spanish Super Cup – "Real Madrid v Atletico Madrid"
Defensive Midfielder: Didier Deschamps – Marseille, Juventus
Didier Deschamps won the Champions League with Marseille in 1993 and again with Juventus in 1996. He also became only the third man in history to win the World Cup as a player and as a manager, after guiding France to the Jules Rimet Trophy in Russia last summer.
Center Midfielder: Xabi Alonso – Liverpool, Real Madrid
Xabi's first Champions League success came during Liverpool's incredible fightback against Milan in Istanbul in 2005 with Alonso scoring the equaliser on a dramatic evening in the Turkish capital. Alonso lifted the trophy once more in the famous all-white colours of Real Madrid in 2014, playing a crucial role in the club's run to La Decima.
Center Midfielder: Toni Kroos – Bayern Munich, Real Madrid
Kroos joined Cristiano Ronaldo during an all-conquering era in the Champions League for Real Madrid, winning three consecutive titles between 2016 and 2018. The midfield metronome had earlier tasted European success at German giants Bayern Munich, defeating Borussia Dortmund in the first ever all-Bundesliga final to complete a historic treble under Jupp Heynckes.
Central Midfielder: Clarence Seedorf – Ajax, Real Madrid, Milan
A four-time winner of the trophy, Clarence Seedorf is the only player in history to have won the Champions League with three different clubs. Seedorf achieved this success with Ajax in the 1994-1995 season, Real Madrid in the 1997-1998 season, and Milan in the 2002-2003 season. He once again won Europe's biggest trophy in the 2006-2007 season in Milan.
4. Forwards
IInter Milan's Portuguese coach Jose Mou
Forward: Cristiano Ronaldo – Manchester United, Real Madrid
No player in the Champions League era has won more than Cristiano Ronaldo's five titles, his first coming with Manchester United in 2008 before four victories in just five seasons during a period of European dominance for record winners Real Madrid.
The only player in history to have also scored in three finals, his 128 Champions League goals is an all-time record, as is his tally of 17 in a single campaign during Madrid's victorious La Decima triumph of 2014.
Forward: Samuel Eto'o – Barcelona, Inter
​Samuel Eto'o won two consecutive Champions League titles, the first with Barcelona in 2006 and 2009, and the second with Inter with 2010 – Jose Mourinho's side the first Italian outfit to secure the treble.
Eto'o's back-to-back successes also made him the first – and so far only – player to achieve successive continental trebles with two different clubs, the record four-time African Player of the Year one of the finest players the continent has produced.